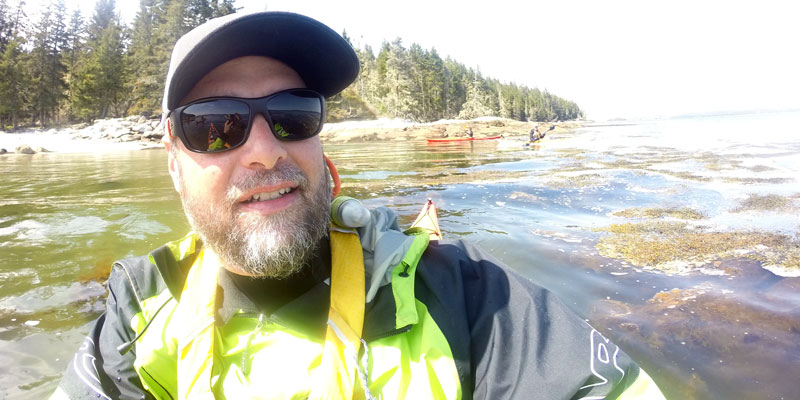 In May of this year, I was delighted to participate in Maine Kayak's Maine Sea Kayaking Guide Course. The class participants came from varied backgrounds and themselves brought a breadth of experience to the class. Our instructors consisted of Master Maine Guide Alvah Maloney, Marine biologist and Maine Guide Jeff Dubois and Maine Kayak's director of operations Kelly Maloney.
The course ran over two weekends: the first covering navigation, trip planning, boating laws, group dynamics and risk management. With the sound knowledge and extensive experience of the instructors, I was surprised to find that I took to navigation more easily that I might have without such expert assistance. All of the specialized tools were provided, which minimized upfront personal expense to beginning to master the art of navigation.
We also reviewed safety procedures in the event of a Lost Person or Catastrophic Event, as this knowledge would be a key component to passing the licensing exam. We also delved into specifics on weather and tidal patterns as well as identification of local flora and fauna. All instructors did an excellent job of teaching us towards not only to pass the exam but leading us to become the best sea kayaking guides we could possibly be.
The second weekend consisted of an evening session at the Boothbay Harbor YMCA pool. Since water temperatures were unseasonably low, this session enabled us to dial in our rescue techniques both individually and in teams. Being able to drill the exercises in warm water was key to incorporating the kinesthetic muscle memory to be able to carry them out effectively in a real world scenario.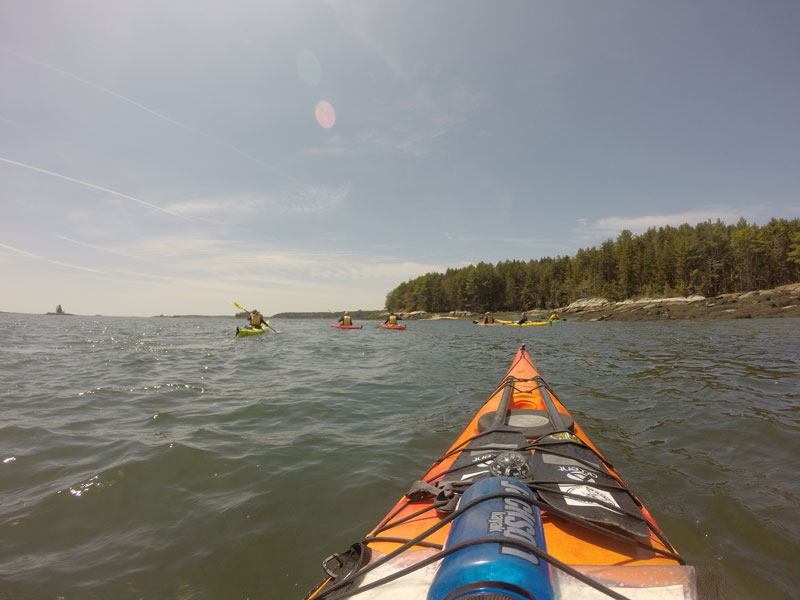 The next day we had a beautiful, full day on the water and each participant led a segment of the tour. This is where we put it all together. We reviewed boat handling including entry and exit, paddling strokes, rudder adjustment and maintenance as well as the specifics involved in outfitting a guide boat. On the water, our instructors teasingly role played a variety of characters that allowed us to get a taste of managing a variety of group dynamic situations that we could face. We had to work to counter the "slinky effect" or the tendency for a group to stretch out to unmanageable distances. One character required a tow, while others attempted to hide and be left behind. During the segments of the trip that went smoothly, we were able to practice piloting, communication between lead and sweep guides, paddle signals, rafting to adjust gear/clothing, as well how to safely conduct a channel crossing. 
On the final day, we each participated in a mock oral and written exam. These were conducted by our class instructors as well as other experienced sea kayaking Guides. At the end of this course, I can say with assurance that I received an incredible foundation upon which to build a career as a Sea Kayaking Maine Guide.