Maine Kayak Mission Statement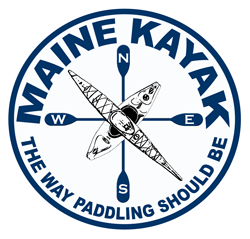 Welcome to Maine Kayak! We believe getting people outdoors helps the body and soul. Participation in kayaking trips allows people to commune with nature and relax and recharge in a serene environment. Maine Kayak is the first kayaking company in Maine to offer participants an option to choose from a variety of Maine kayaking vacations. We provide everything people need to enjoy a relaxing day on a picturesque Maine lake, a serene day exploring Maine's rocky coast or a thrilling day tackling some of Maine's finest whitewater.
Maine Kayak draws on over 20 years of kayaking experience in providing our customers with a personalized experiential learning kayak adventure. Individualized attention, comfort and safety is addressed by providing a low student to instructor ratio. Maine kayaking trips are offered ranging from half day to multi-day overnight trips. Kayak rentals are also available to explore Maine's picturesque coves, inlets, and bays. Add state of the art kayaks and equipment with competent, certified instructors and you have Maine Kayak "The Way Paddling Should Be!"
We Provide –
2-Hour to Multi-day Overnight Kayaking Trips
Kayak and Paddleboard Rentals
Top of the Line Kayaks, Gear and Equipment
Certified Registered Maine Guides
Camping and Lodging Packages Available
Kayaking in a Fun and Relaxing Atmosphere
Personalized Instruction & Individualized Attention
Maine Kayak – The Way Paddling Should Be!
We hope to see you on the water soon!