About Maine Kayak
Discover kayaking in Maine with Maine Kayak. Join our sea kayaking adventures in the sheltered harbors and rocky coast of Midcoast Maine, teach whitewater paddling on several wild and scenic white water rivers in the pristine wilderness of northern Maine, and enjoy lake kayak touring on serene lakes and freshwaters of the Pemaquid Point peninsula.  Maine Kayak provides the ultimate Maine kayaking adventure for all abilities and environments.
Learn More
Maine Kayak offers sea kayaking, lake kayaking, and whitewater kayaking in Maine.
Maine Kayak is the first kayaking company in Maine to offer participants an option to choose from a variety of Maine kayaking vacations on the ocean, lakes, and rivers of Maine. We provide everything you need to enjoy a relaxing day on a picturesque Maine lake, a serene day exploring Maine's rocky midcoast by sea kayak or a thrilling day tackling some of Maine's finest whitewater.
We draw on over 20 years of kayaking experience in providing you with a personalized experiential learning adventure. Individualized attention, comfort and safety is addressed by providing a low student to instructor ratio. Maine Kayak offers fully licensed and registered Maine sea kayak guides and recreational guides on every tour, single and tandem touring and expedition kayaks for all sizes, top of the line equipment, and a love for the Maine outdoors that we aspire to share.
We believe getting people in the Maine outdoors helps the body and soul. Participation in outdoor activities, like paddling with Maine Kayak, allows people to commune with nature and relax and recharge in a serene environment. Maine Kayaking provides people with a leisure experience, which removes them from the stresses of everyday life and provides an environment for physical strengthening and mental relaxation.
You'll find Maine Kayak on the Pemaquid Peninsula, nestled between Muscongus Bay and Johns Bay with easy access to Monhegan Island.  Come and enjoy Maine coastal dining, lodging, beaches, lighthouses, tide pools, forts & museums, art galleries, and much more.  Or join us for whitewater kayaking on the wild West Branch of the Penobscot River in the shadow of Baxter State Park's Mount Katahdin – enjoy hiking, bird watching, amazing fly fishing and mountain lodges. Join Maine Kayak for your next kayaking adventure in Maine!  Also, check out our Blog.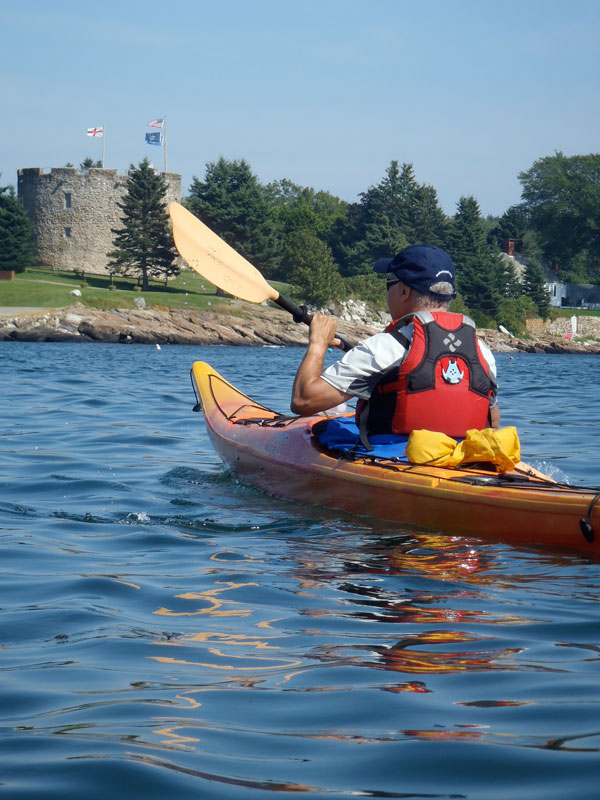 Discover Maine with Maine Kayak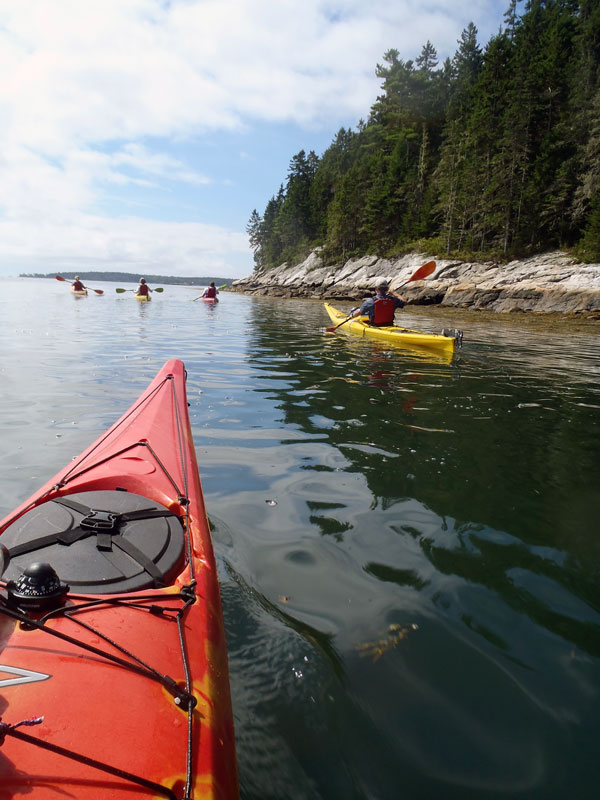 SEA – Sea Kayaking on the rocky Maine Midcoast is great for couples and families looking for an easy, fun, and educational way to explore Maine. Join us for our 2 Hour naturalist paddling trips, Half-Day and Full-Day Tours in beautiful mid-coast Maine or our multi-day Island Camping Overnights on the Maine Island Trail and Inn-to-Inn kayaking trips to Boothbay Maine.
LAKE – Easy and fun freshwater adventures abound on our Half and Full-Day Trips on the relaxing and scenic waters of Bristol; abundant wildlife coupled with rich history gives you the ultimate kayaking experience.
RENTAL – Kayak and SUP Rentals are offered in sea and freshwaters; explore the calm coastal waters of Pemaquid Harbor or the wildlife-abundant inland fresh waters of Pemaquid Point.  Or choose delivery and explore your own paddling locale.
WHITEWATER – Maine Kayak's whitewater kayaking school, on the Penobscot River  is for beginner to advanced paddlers wanting a platform to progress through their white water kayaking career with options ranging from multi-day Beginner Whitewater Classes to one-on-one instruction.
We provide state of the water kayaks and equipment with competent certified Registered Maine Guides and you have an adventure of a lifetime!
DOWNLOAD MAINE KAYAK'S BROCHURE HERE:
A Look Inside the world of Maine Kayak
Our kayak guides typically carry digital cameras and GoPro's on our kayaking tours.
This is a collection of Maine Kayak's trips photos for you to get a taste of the real Maine kayaking experience.  Maine Kayak offers sea kayaking, lake kayaking, and whitewater Maine kayaking trips, lessons and kayak rentals in Maine.  Maine Kayak has guides who take kayaking trip photos on most daily Maine kayaking trips adventures.  We have many memorable experiences kayaking in Maine and we want to share a little with you.  Please enjoy our Maine kayaking trips photo gallery.  Also, check out our Blog.